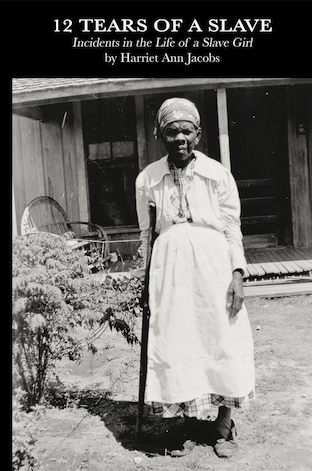 12 Tears of a Slave
Incidents in the Life of a Slave Girl
by Harriet Ann Jacobs
12 Tears of a Slave: Incidents in the Life of a Slave Girl is a slave narrative that was published in 1861 by Harriet Ann Jacobs, using the pen name "Linda Brent." This book is an in-depth chronological account of Jacobs's life as a slave, and the decisions and choices she made to gain freedom for herself and her children. It addresses the struggles and sexual abuse that young women slaves faced on the plantations, and how these struggles were harsher than what men suffered as slaves. This book is considered sentimental and written to provoke an emotional response and sympathy from the reader toward slavery in general and slave women in particular for their struggles with rape, the pressure to have sex at an early age, the selling of their children, and the treatment of female slaves by their mistresses.
About the Author:
Harriet Ann Jacobs was an African-American writer who escaped from slavery and became an abolitionist speaker and reformer. Jacobs' single work, Incidents in the Life of a Slave Girl, published in 1861 under the pseudonym Linda Brent, was one of the first autobiographical narratives about the struggle for freedom by female slaves and an account of the sexual harassment and abuse they endured.
Published by W2G Publishing
Copyright 2014 Write2Grow LLC
www.Write2Grow.org/Tears
ISBN 978-1-304-85959-4

247 Printed Pages
Soft Cover Book

List Price:

$14.99

Best price now from Lulu online bookstore!


$14.99

+ Shipping
Pay by Credit Card

Refunds not available for eBooks.