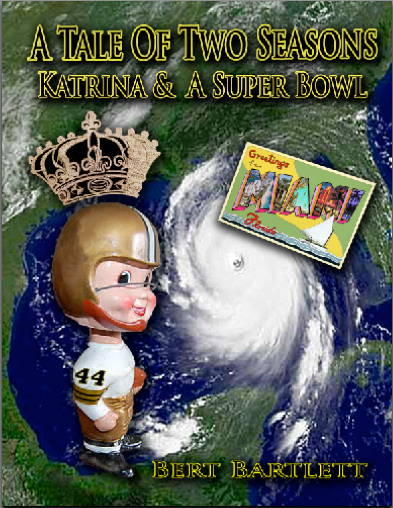 A Tale of Two Seasons
by Bert Bartlett

"This is an intriguing work! Mr. Bartlett's style reaches out to lovers of New Orleans' culture, football fans, and historians alike. This is a fun, fresh, and cumulative read on how Katrina, the Saints, and the NFL have impacted our lifestyle."
About The Book
Katrina vs. Pro Football: two seasons that took the city in wildly divergent directions! This book of fusion sports writing explores the effects of a devastating hurricane, and the happenings of a Saints team caught up in the eye of the storm. A tale of the worst and the best of times; Two Seasons offers insight and reflection as it chronicles a unique odyssey that extends beyond the confines of a football field.
The Author
Bert Bartlett is a native of New Orleans, and resides in Covington, Louisiana. He attended the first Saints game in Tulane Stadium in 1967, and has followed the team and pro football ever since. In 2006, the author's short memoir, The Daze of Katrina, was published in the Southern Quarterly. He is the feature writer for the blog, Souls of the Saints.
About The Illustrator
Christopher Fischer, a native of New Orleans, was a classmate of the author (Metairie Park Country Day). Fischer is an artist, photographer, and certified arborist. As part of the non-returning exodus of Katrina evacuees, he currently lives with his wife and daughter in the Ozark town of Eureka Springs, Arkansas.
Suggested Retail Price: $19.99

| | | | |
| --- | --- | --- | --- |
| How to Purchase: | | Suggested Retail: $19.99 | |
| eBook for Kindle! | Amazon Kindle | Sale $7.99 !!! | |
| Softcover | | | |
| | Lulu.com - Mail order | $14.99 + Shipping + Tax | |
| PDF download (immediate) | | | |
| - Compatible with PC, Mac, iPad, iPhone and iPod Touch | W2G | $12.99 (immediate download, no tax) | |
| | Lulu.com | $11.99 + tax | |
| ePub download (immediate) | | | |
| | W2G | $12.99 (immediate download, no tax) | |
| | Nook Book (eBook from Barnes and Noble | $14.99 (immediate download) | |