Hamlet, King of Denmark
- Richard Edgar Zwez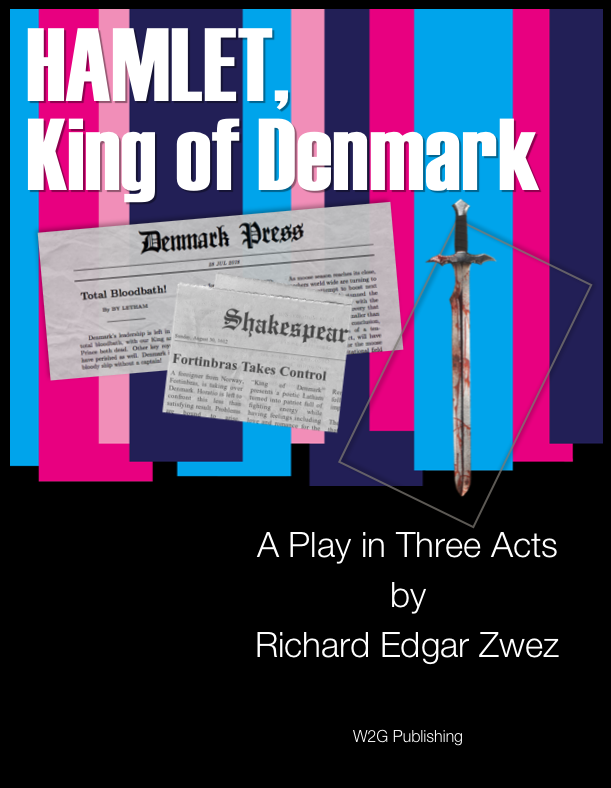 Download a free PDF sample here!

Hamlet, King of Denmark
A Play in Three Acts by Richard Edgar Zwez

In Print: Fall 2018
Live Performances: Summer 2019
At the end of Hamlet, Shakespeare left readers in a literary quandary. This new play explores what comes after the Bard's original ending…
Hamlet, King of Denmark is a story full of lovable characters, action, thought-provoking drama, and laughter. If you loved Hamlet, you will love Richard Egdar Zwez's take on what would be Shakespeare's next chapter!
Does Horatio honor his commitment to Hamlet; to live and share Hamlet's story?
Is Latham truly the warrior leader that Denmark needs?
How will the country move forward under a questionable, foreign-born leader?
Which critical players actually survived Shakespeare's slaughter?
For additional information and contacts:
Website:
https://tinyurl.com/HamletKing
FaceBook:
facebook.com/
Hamletkingofdenmark
Contact:
Gary Dauphin, CEO
W2G Publishing
504 458 8156
Email: ceo@Write2Grow.org

(C) 1998 Richard Edgar Zwez, All Rights Reserved.

US List Price: $29.99