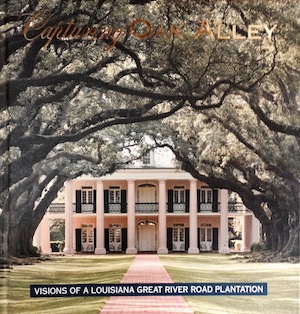 Capturing Oak Alley
The official photo and history book of Oak Alley Plantation
by Michael Ledet (Editor),  Robert Brantley (Photographer),  Philip Gould (Photographer),
Richard Sexton (Photographer),  Eugene Cizek (Introduction)

About The Book
Master photographers Robert S. Brantley, Philip Gould and Richard Sexton have indeed captured unforgettable portraits of one of our nation's most cherished historic treasures. Capturing Oak Alley parallels their masterpieces with poignant images from the past, as well as pertinent testimony by well known professionals. The first edition is at once a keepsake, a proud tribute to Louisiana's unique golden age, a toast to the Bicentennial Celebration of the Louisiana Purchase and a thing of beauty to enhance any collection of fine books.
Product Details
Hardcover: 136 pages
Publisher: Oak Alley Foundation; 2nd edition (2007)
Language: English
ISBN-10: 0970410646
ISBN-13: 978-0970410641
Product Dimensions: 10.6 x 10.1 x 0.7 inches
How to Purchase:
Suggested Retail: $39.99
Hardcover book, NEW condition ships from our warehouse.
$28.99
NO TAX, FREE FEDEX GROUND SHIPPING TO UNITED STATES.
NO P.O.BOXES, PLEASE.