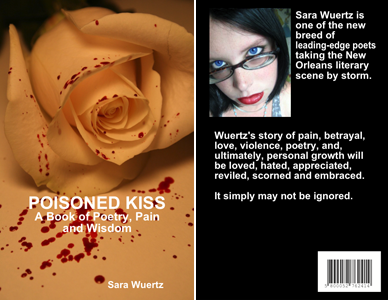 We are saddened to report that
Sara Wuertz passed away of Aug 11, 2011,
as she lost a hard fought battle with Muscular Dystrophy.
Poisoned Kiss
by Sara Wuertz

About The Book
Author Sara Wuertz has suffered more in her young life than most will in a lifetime: Alcohol. Drugs. Physical abuse. Debilitative disease. Through it all, her poetry has been her outlet for her pain, and her chance at a fresh start.
Read this. Be prepared to cry, to laugh, and to cry some more. In the end, be prepared to learn hope.
This book will not be forgotten or dismissed.
"Poisoned Kiss" -- an Autobiography and Collection of Poetry by Sara M. Wuertz
Suggested Retail Price: $19.99

How to Purchase:
Suggested Retail: $19.99
Soft Cover
Lulu.com - Mail order
$19.99 $11.98 + Shipping
Link
eBook
W2G - Instant Download (PDF). Perfect for PC, Mac, iPad and any PDF reader!
$14.99
Sale: $4.99
Instant download
Lulu.com - Instant Download
$5.99
Link